Service providers are actively seeking the means to virtualize their networks. Software-defined networking (SDN) and network functions virtualization (NFV) are two promising technologies with which service providers can attain greater service velocity and cost reduction by virtualizing functions that once required physical hardware and manual programming configuration.
We recently sponsored an article with Pipeline called "NFV Evolution: Defining the Missing Link" that explores the challenges service providers face bringing SDN and NFV in their networks. This shift will not happen overnight.
Network operators are understandably starting small with SDN and NFV implementations. There are a number of technical deficits to overcome on the way to migration toward NFV and SDN. Not only must virtualized network elements coexist with legacy hardware, but orchestration of all functions must be automated. Today's multi-vendor environments can make this painful to achieve.
The Pipeline article looks at the technical and business challenges in trying to quickly launch new services in multi-vendor network environments, and provides direction on how to overcome these challenges.
What network operators need is a network service orchestration system that provides a service-oriented northbound API based on data models and transactions. Network Control System (NCS) from Tail-f Systems is one such solution that is highlighted in the article. As illustrated below, NCS functions as a service orchestration system between network functions and the business support systems (BSS).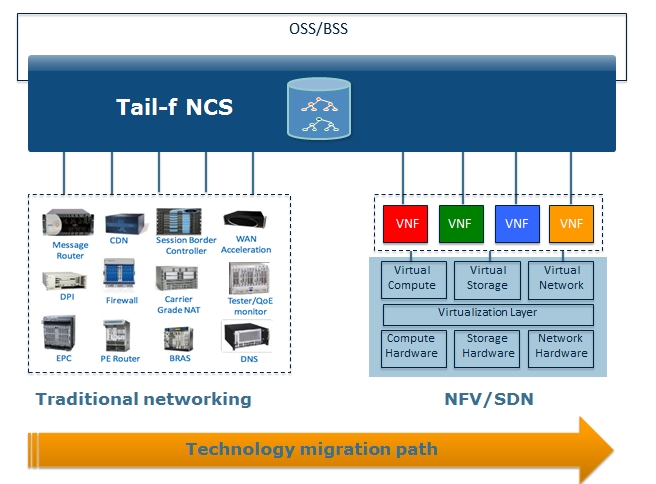 NCS accommodates the way networks and service providers exist today, in addition to what they may look like in the future.
You can access the Pipeline article here to learn more.